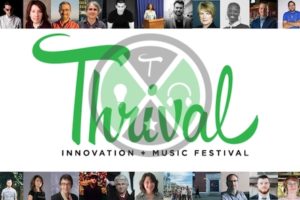 Celebrating its fourth year, the Thrival Innovation + Music Festival announces the lineup and scope for its immersive, interdisciplinary, and celebratory programs and two day live music experience.
Thrival introduces an array of keynotes, demos, panels, activities, and after-parties that will provide occasion for a cross-pollination of thought leadership and unique social engagement around a vast range of topics including sustainability, art, education, investment, health, and cutting edge technology. Three days of innovation are capped by a diverse two-day music experience featuring The Chainsmokers, Thievery Corporation, CHVRCHES, Metric, Ty Dolla $ign, Hudson Mohawke and Lettuce amongst others. The outdoor concert is located at the historically-landmarked and dramatically-sited Carrie Furnaces.
Produced by the Pittsburgh-based nonprofit Thrill Mill, and presented by UPMC Enterprises, Thrival Innovation takes place from September 20-22 and gravitates around three main themes — corresponding with each of the three days of programs — "Lost and Found," "AuthentiCity," and "The Ripple Effect."
Read on to learn more about the programming during each of these theme days and BUY TICKETS for the keynote and music lineup.Exact times will be added along with more events soon!
DAY 1: Lost and Found
"Smart Phones"& When It's Smarter to Keep them Off
According to the World Bank data from 2014, there are 97 mobile phone subscriptions per every 100 people in the world. Just 10 years ago, that figure was 42 out of 100. There's no doubt that smartphones have transformed our world by creating communities, enabling content sharing, and facilitating a global marketplace at our fingertips. But in order to do this, many smartphones users spend hours a day staring at their screens for business and entertainment. And while this technology certainly makes some of life's tasks easier, it is also easier to "miss" the world around us.
In partnership with AT&T, Thrival will have a discussion about how to use our devices to get work done while also taking time away from the screen — to connect with others face to face, person to person.
Radio Resurgence: The Rapid Rise of Podcast Communities
For decades, radio was for many people the primary of staying connected with the rest of the world. The ability to broadcast information over large distances constituted a major turning point in the course of human civilization, impacting everything from news and education to music and entertainment. Recent years have produced another shift: as technology has become more affordable and easy to use, listeners and creators around the world have been empowered to take more active roles in shaping our collective knowledge and interactions.
Three podcasters come together for a live recording of their respective shows. Thrival content partner Aaron Watson, from Going Deep with Aaron Watson, will be joined by Marta on the Move's Marta Mazzoni, and Juice Crew 412's Knowledge Build Hudson for a discussion on how this medium has impacted the way they learn, live, and engage with the world around them.
Way Off Broadway: The Post-Industrial Squonk Phenomenon
Meet Jackie Dempsey and Steve O'Hearn, the creative geniuses behind Squonk, a brazen ensemble of makers and music technologists who have wowed audiences around the world with their surreal post-industrial productions. Since their start in a Pittsburgh junkyard 24 years ago, Squonk has performed in more than 250 venues across the US, and on 3 continents. They focus on creating public works that embrace site and context, and have been called  "a multimedia troupe of infinite jest with an imagination to match" by The New York Times, and "Debussy meets Godzilla" by the Washington Post (which may or may not have been an insult).
Squonk's two most recent productions will be featured at the open and close of Thrival Music. Each day will begin with a performance of Cycle Sonic, their brand new bike-inspired rock concert on human-powered cycle stages. Pneumatica, which has been on tour for the past two years, will close out each evening, complete with a 40-foot high Lady Pneumatica driven with fans, turbines, and inflatables. This will be the first time in Squonk's history that two of their shows will be performed together.
Pittsburgh's Outstanding Women Entrepreneurs Rally (P.O.W.E.R.) andThrival present: The Power to Protect Technology, Science, and the Fight to Prevent Sexual Violence Against Women
Technology is allowing us to empirically and accurately determine what we know, how we know it, and how to protect ourselves and our neighbors. Innovator have developed groundbreaking new methods and devices to fight back – and we've enlisted help in surprising new sectors to allow women to employ science and technology as a means to to help protect other women and the vulnerable from harm — particularly within the realm of cases most difficult to prosecute.
Thrival partners with the Pittsburgh Chapter of Women In Bio to link scientific innovation, law, and economic growth in an interdisciplinary forum of experts, entrepreneurs, and researchers who have developed key tools to fight against sexual violence and human trafficking. This program showcases cutting-edge technologies to combat, prevent, and prosecute brutality against women and the vulnerable in Pittsburgh and across the globe.
KEYNOTE – DR. BENNET OMALU
Collision Course: Courage, Accountability, and Fighting for the Voiceless
Chronic Traumatic Encephalopathy, popularly known as CTE, has shaken the sports world to its core, most notably the National Football League and its penchant for offering fans jarring hits and sensational collisions every Sunday from September through February. Dr. Bennet Omalu discovered CTE in Pittsburgh, and has since become a global phenomena, with the recent film Concussion documenting his experience going toe to toe with the National Football League — an organization that fiercely disputed his findings and has found itself at the heart of the controversy. Dozens of football players and other athletes have been diagnosed, multiple have tragically taken their own lives, and numerous analysts believe this condition is not isolated, but an epidemic.
Jeanne Marie Laskas, author of Concussion and writer of the screenplay for the feature film starring Will Smith, will join the conversation with Dr. Omalu for a deep dive into the nature of courage, accountability, and the opportunity to tell the story for those who have lost the ability to tell it for themselves.  
DAY 2: AuthentiCity
Shooting from Half Court: Public Education Reform and Why We Can Do Better
The current system of public education is more or less maxed out in terms of results. Continuing to invest in reforming this model will result, at best, in incremental progress and pockets of success. Thankfully, it is increasingly possible to envision an entirely new paradigm for learning, one that would be much more aligned with the modern world, more equitable to those who have been marginalized, and more compatible with the future we want for our children and communities.
Sam Franklin argues for a new approach to education reform, one that would change the fundamentals of the shots we are shooting instead of trying to get us better and better at shooting from half court. And one that would stop using outliers as a rationale to continue doing what we're doing. Register now for a provocative call for new education pathways, and start to envision what it would look like to combine the best aspects of education, past and present, to chart a better future.
Sam will be joined for a talkback session with Derrius Quarles, someone who made that "half-court shot," working his way from various foster homes in Chicago's South Side to earning over a million dollars in scholarships, and starting his own business, Million Dollar Scholar, to help other students secure financial aid for college.
Meeting You Where You're At: Community Storytelling and the Value of Place
History has mostly been written by those with the power, wealth, and means to shape the reality of their time. While this still bears some truth today, education and technology have largely democratized the ability to document and share people's stories, on their own terms. The American Society of News Editors aims to further bridge that gap by curating a platform for community members to shape their own narratives. In this session we'll hear from a few residents from the surrounding neighborhoods sharing their perspectives on being part of one of America's new "it" cities. Join in on the conversation throughout the day at Alloy 26, as open interviews will be conducted on Thrival's exhibit floor.
Learning from Where You Live: Authenticity and Innovation in Changing Places
Cities change. Neighborhoods evolve. These are all widely accepted truisms; however,  in communities that have experienced disinvestment followed by new development, there is often a struggle to form a shared identity between long-time residents and newcomers. But there is an opportunity to bridge this gap by recognizing that the existing "authentic community" is (and was) never truly static. By viewing our cities and neighborhoods as constantly evolving places of innovation marked by the fingerprints of individuals from all walks of life, a new sense of authenticity can be discovered.
Ray Gastil, Director of City Planning at the City of Pittsburgh, Dr. Daniel Campo, Professor in Architecture and Planning from Morgan State University, Janera Solomon, Executive Director of the Kelly Strayhorn Theater, and Matthew Lister, Director at Gehl Architects will explore this topics in depth and share perspectives from a variety of viewpoints.
Food City, USA: How to Build and Sustain a Food Culture for Everyone
Since Pittsburgh's anointment as America's #1 food city, there has been much celebration about the ascension of the city's culinary culture and community. This is great, however, there's a need for an open and transparent conversation about what this actually means long term, and if this type of notoriety is sustainable in the long-term. How do you build from here? What are the necessary steps needed to maintain the momentum? Does everyone have access to these benefits (short answer: no)? It doesn't just end with food. The culture extends itself into a culture of microbreweries and craft beer that industry leaders that also make Pittsburgh their home.
Panel participants include: Leah Lizarondo, Brazen Kitchen, Scott Smith, East End Brewing Company, Jake Voelker, Voodoo Brewery, Sandy Cindrich, Penn Brewing Company, Joe Hilty, The Vandal, Jamilka Borges, Spoon
High Spirits: Food, Brew, and 'Burgh-based Libations
After you've learned more about food and craft brewing culture, it's time to stimulate other senses — most notably taste. Thrival will activate 10,000 square feet to feature over a dozen craft breweries, distilleries, and wineries (as well as some of the Pittsburgh's most popular food trucks) all offering free samples while engaging you in an interactive experience on sourcing, creation, design, and more.
And be sure to check out a live demo of Conversant Labs new app, "Yes, Chef," that will be live demo'd by Jamilka Borges, James Beard Award semi-finalist and executive chef of Spoon.
KEYNOTE: The American Identity: Who Are We, and Where Are We Going?
There is no shortage of opinion when it comes to defining the current social and political climate in America. Conversations about where we are going and who we are as Americans have ventured to the extreme. Factor in a presidential election that leave many looking toward November with, at minimum, a sense of uncertainty, and it is not a stretch to say our country is having an identity crisis.
But before the scales tip into more frenzied debate on who is to blame or bears responsibility, it's important to take a step back and engage in open, honest, and respectful dialogue about how out of many, we are one. Join Meghan McCain, Fox News Radio Host and Commentator and Eugene Robinson, Pulitzer Prize Winner and Nationally-Syndicated Columnist as they discuss these topics.
DAY 3: Ripple Effect
Breakfast of Champions: Griddle Masterpieces
Look — making a smiley face out of eggs and bacon is nothing new. But making a pancake mural of Game of Thrones characters? How about a pancake that looks just like Bernie Sanders or Donald Trump? Those are griddle skills. Enter the minds behind Dancakes — best friends from St. Louis who have blended breakfast and art to introduce a social media phenomenon that has captured the world's attention. Join us for coffee, a thought talk, and of course a selection of custom-made pancakes for your viewing and eating pleasure.
Winning Formulas: Sports Analytics, Performance, and the Competitive Edge
We're past "Moneyball." Sports franchises throughout the industry have adopted and implemented myriad quantitative and analytical tools to assess player performance on the field.
These developments have certainly led a revolution in the way we view athletic evaluation. However, we still lack a sufficient grasp on the games being played inside the minds of athletes. Do some people have a knack for defining the moment, while others fold under pressure?
The consequences are heavy — with trophies, championships, endorsements, millions of dollars, and at times the collective soul of entire fanbases riding on the thinnest of margins.
Thrival welcomes a panel of sports experts and professionals as they discuss the ins and outs of sabermetrics, the nature of the business of sports, and what it means to be clutch.
How to Build a Music Town
Okay, so most cities aren't Austin, TX. In fact, there's only one of those. And virtually no one still needs introduced to South By Southwest or Austin City Limits — or Coachella, or Lollapalooza, for that matter. So let's move past the typical examples of music industry stalwarts in a handful of American cities and begin to figure out what those who are off the beaten path are doing to make their voices heard, forge a unique identity, champion themselves as destination venues, and offer their own contribution to a rapidly changing marketplace.
The Hero Box: Service, Street Medicine, and the Growth of a Movement
For over 30 years, Dr. Jim Withers has traveled to underpasses, alleyways, and tent cities serving those in need — offering free healthcare to the homeless. He would eventually travel the world, connecting with those like him, real life heroes dedicated to serving those who were very much in need. Thus began a street medicine movement, one that spanned the globe.
Diving deeper into the story  we can get caught up in describing the common elements and shared characteristics of what makes a hero in our modern society. By doing so, we often lose track of the fact that people and circumstances change — that more than just one person contributes to success — and a hero's work is never truly done.
As such, we as a society must challenge our sense of thinking about who our heroes are and the purpose they continue to serve as they continue on their life journey. This is a conversation just as much about charting new frontiers as it is about our collective ability to come to terms with the past and gather courage for the road ahead.
KEYNOTE – Straight Outta My Parent's Basement: How to Be a "Differentist"
Most 18 year old college sophomores are thinking about final exams, summer vacation, and dorm room shenanigans. But before 18-year-old Ann Makosinski ever stepped into a college classroom, she had won the Google Science Fair, garnered awards at the Intel Science and Engineering Fair, was featured in TIME Magazine, and appeared on the Tonight Show — twice. Instead of couching herself in the typical definitions of "entrepreneur" or "inventor," Ann has coined a term for herself: "differentist."
In today's celebrated and well-documented innovation economy championed by Silicon Valley wunderkinds like Mark Zuckerberg, we have a tendency to think that the best new ideas are exclusively coming out of Bay Area, or the offices of Apple, Uber, or other tech giants.
But sometimes, world-changing ideas come out of a home basement in the suburbs. Join Ann as she explains what it's like to be a differentist in a world that's constantly redesigning and reimagining itself, and charting new courses.