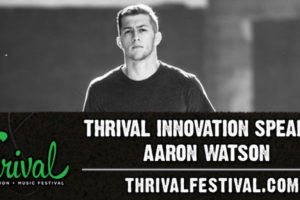 Thrival Speaker and Pittsburgh native Aaron Watson is content creator with highly regarded podcast "Going Deep with Aaron Watson". His podcast focuses on technology, innovation and meaningful conversations with influencers across the globe. Ahead of his speaking engagement at Thrival 2016, we took a moment to catch up with Aaron, learn more about his podcast and his views around the growing tech world in Pittsburgh and at large. Attend his free panel at Thrival in September and buy tickets for the two-day music lineup to check out The Chainsmokers, CHVURCHES, Hudson Mohawke, Ty Dolla $ign and many more.
Can you tell us a bit about yourself? How did you get started podcasting?
I am a Pittsburgher, born and raised. I am a two-time national champion ultimate frisbee player with the University of Pittsburgh and the VP of Sales at TopScore, a software startup.
I've been listening to podcasts since 2009 and have been a certified junkie since 2012. I love media that is long form and that builds context over longer narratives.
You mention that your own podcast is "a forum for having meaningful, deep conversations about the passions, fears, and problems of people from all walks of life". How did you arrive at this topic?
I wanted to have the opposite of terrible small talk. I wanted a catalyst for having more conversations of real substance. Given the boom of podcasting we are currently experiencing, I'm fairly confident that many people feel the same way.
For your panel at Thrival, you'll be speaking about podcasting, technology and how it empowers creators and listeners. Can you tell us a little bit about that?
The Digital Revolution is only in the 2nd or 3rd inning. Media consumption is exploding because the tools available to creators are amazing, and continuing to get better. The fact that I can record a show with someone across the country, then share it with people around the world is such a privilege and not one I take lightly. This trend is going to continue as more people are empowered to create.
There has been a recent tech boom in Pittsburgh. What/who do you see being most affected by this? What are you most excited about in terms of the opportunities it creates?
I'm most excited for the opportunity that is available the people willing to hustle. Anyone can work a 9-to-5, then come home and hustle from 6-to-11 and build something incredible. I see the hope that this opportunity inspires every time I interact with the Pittsburgh entrepreneurial community. There are so many resources, between the accelerators, meetups, and networking groups, to meet the right people and access the knowledge & mentorship you need.
I don't really care if a Facebook/Uber/Snapchat-type unicorn ever comes out of Pittsburgh. I care about individuals having the support system to chase a dream and aim higher.
What are you most looking forward to at Thrival this year? What musical acts are you excited to check out?
CHVRCHES and Chainsmokers. I can't believe they are both going to be in the 412. I'm also excited for all the connections that I will surely make during the three days of the Innovation side. I'm excited to witness people start to realize how awesome Pittsburgh has become.