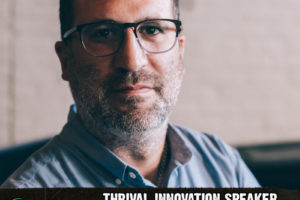 Sam Fotias is Vice President of Operations at Paxahau and Operations Director of the Movement Electronic Music Festival in Detroit. Sam began producing underground dance events in Detroit in the early 1990s. Working on these shows, he discovered and developed his talent for pulling elements together to deliver a powerful event experience. He immersed himself in the surging Detroit electronic music scene, working as the in-house promoter for Plus 8 Records and Plastik Produkts, and running Intellinet Record Distribution out of his basement.
In 1998, Sam joined Jason Huvaere and Jason Clark on the Paxahau project that the two had created. Paxahau was a volunteer led organization for many years, during which time Sam split his time between Paxahau and community development work at various Detroit-based community and cultural organizations.
Since Paxahau's inception of Movement, recognitions include: "Festival of the Month" in May 2016 by Resident Advisor, "16 of Summer's Best Music Fests" by Jetsetter Magazine, New York Times "50 Essential Summer Festivals" in 2015, "Best Niche Festival" and "Summer 2016's 30 Must-See Music Festivals" by Rolling Stone Magazine and #2 on THUMP's "10 North American Festivals That Won 2014", just to name a few. In 2014, Rolling Stone Magazine named Sam Fotias and Jason Huvaere as one of the "50 Most Important People in EDM"
Ahead of Sam's panel at Thrival this year where he will be speaking about the significance and impact of large scale music events on cities and communities, we took a moment to catch up. Read on to learn more about Sam and be sure to attend his free panel at Thrival Innovation 2016. You can also buy tickets to attend two days of Thrival Music featuring The Chainsmokers, CHVRCHES, Hudson Mohawke, Ty Dolla $ign and many more.
Whether it has been in-house promotion for iconic labels such as Plus 8, or running Detroit's Movement Electronic Music Festival — which attracts 100,000 people — you've worn many hats within the music industry. So which one was your favorite? What job meant the most? And maybe those are two very different questions!
Sam Fotias: Its hard to pick just one.  I can say that I feel incredibly fortunate to have been involved in the electronic music scene here in Detroit for over 23 years now.  I have been able to see and experience some incredible things over that time, some things that will probably never happen again until another genre of music and its accompanying sub culture rises and has its epoch moment in history.  I just feel grateful to have been a part of some of that history and to be able to still be a part of it at this point in my life and make a career out of it with an outstanding team.
Movement is recognized as one of the most important and relevant music festivals in the world. And it is in Detroit — a city that occupies a special place within the American musical identity, but is experiencing an array of challenges and it comes back from industrial decline. Is there something to be said about Movement making its home in Detroit, and staying there?
Sam Fotias: So much of the music we all love and grew up listening to came from or was influenced by Detroit music – Jazz, Funk, Punk, Rock, Motown, Soul, Rap, Alt Rock, Techno, etc almost every genre of popular music through time has been massively influenced by artists from Detroit .
One of the core philosophies of Movement is paying homage and respect to the music that was created here in Detroit and recognizing the impact it has had around the world.  Our entire team was born and raised here, we are extremely proud of where we come from and the place our city has in the hearts of hundreds of thousands of electronic music fans around the world.  I cant tell you how much we all look forward to people coming to our city for the festival.  We all love it here so much and we want everyone that comes to the festival to have an amazing time and experience Detroit in the best possible way over the three days.
We've asked you multiple questions about Detroit, but let's focus the lens on Pittsburgh for a moment. For your panel during Thrival Innovation, you'll be speaking in part about the impact of music festivals on a city — particularly as it relates to culture and identity. What comes to mind first when you think of Pittsburgh's music scene? 
Sam Fotias: To be totally honest I really don't know much about the music scene in Pittsburgh.  I know that sounds horrible, but Im not going to say a bunch of stuff based off of a Google search just I look cool and smart. [laughs]
What are you most looking forward to at Thrival this year?
Sam Fotias: I am looking the most forward to seeing another city with some similarities to Detroit that I have never been to before as well as attending Thrival for the first time. I'm grateful for the invitation and look forward to checking both the panel and musical programming!