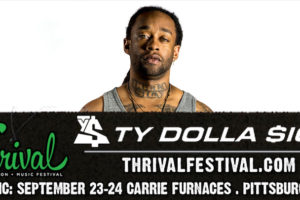 With a brand new album and a nonstop  tour schedule at festivals and sold out shows across the US. Ty Dolla $sign has been busy this summer. His album 'Free TC' features a great cohesiveness with an impressive list of collaborator friends including Wiz Khalifa, Kanye West, Rae Sremmurd, Future, Fetty Wap and several other huge names in hip hop.
Ahead of his debut at Thrival Festival, we spoke with Ty Dolla $sign to hear what he's been working on, how he creates on the road and what to expect in Sept. You can buy tickets to see him live at Thrival Festival and read on to hear more about what Ty Dolla $sign has been working on (below).
Thrival Innovation + Music Festival is all about connecting people with music, technology, new ideas and shared experiences while elevating the profile of its home city, Pittsburgh. When you think of Pittsburgh, what is the first thing that actually comes to mind?
Ty Dolla $ign: Taylor Gang!
How do you make time to "be creative" and write music on the road amidst a busy summer tour schedule? Is there a method to the madness?
Ty Dolla $ign: There's no method to the madness. It's what I love doing. I wake up every morning and head to the lab  to record and if I'm on the road there's a studio on the bus.
What new projects are you working on?
Ty Dolla $ign: I just finished "Campaign" and I'm about to start working on 'Beach House 3'. I'm also working with all my homies and have a few projects in the works, Taylor Gang and my artist TeeCee4800 are up next!
Planning on debuting anything new at Thrival Innovation + Music Festival this year or during your summer schedule?
Ty Dolla $ign: Definitely a few records off of "Campaign".
Many, many musicians are entrepreneurs who experience the ups and downs of starting something new. Looking back, what was it like first starting out, and what advice would you give to aspiring startups, musicians, or entrepreneurs looking to go out on their own?
Never give up keep going – stay in your lane!