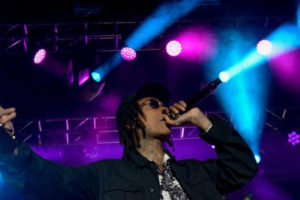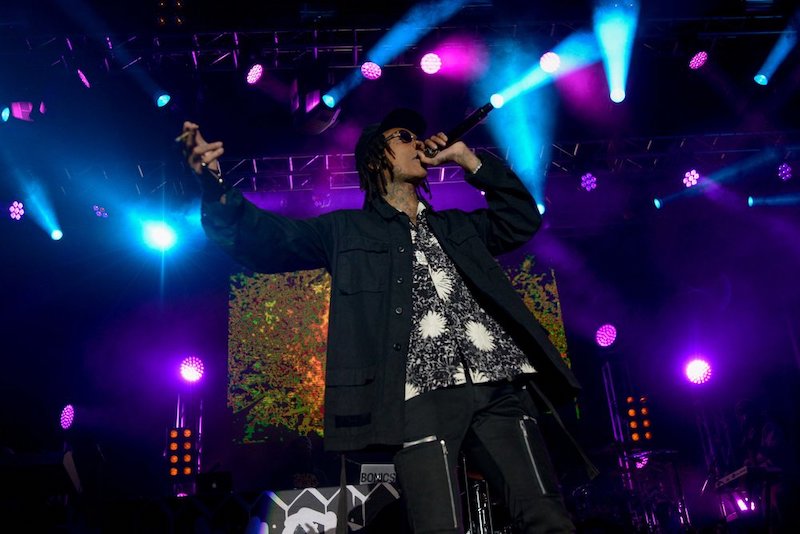 This weekend, Thrival Music returned to the Blade Runner-esque Carrie Furnaces in Swissvale for another year of live music. The music gather followed two days of Thrival Innovation, during which figures from tech scenes in Pittsburgh and beyond discussed the future of innovation, entrepreneurship and culture.
Here is a recap of Thrival Music, whose artists were as diverse as its crowd.
Friday
Reppin' Pittsburgh and… Liverpool
First up at Thrival Music Festival was Pittsburgh-based artist Rachel B.. With her hair the color of cotton candy blue and pink, the singer, along with her band, Little Good Bad, entertained the early festival crowd with electronic, pop, and soul with a style reminiscent of Sia, Robyn and Bruno Mars.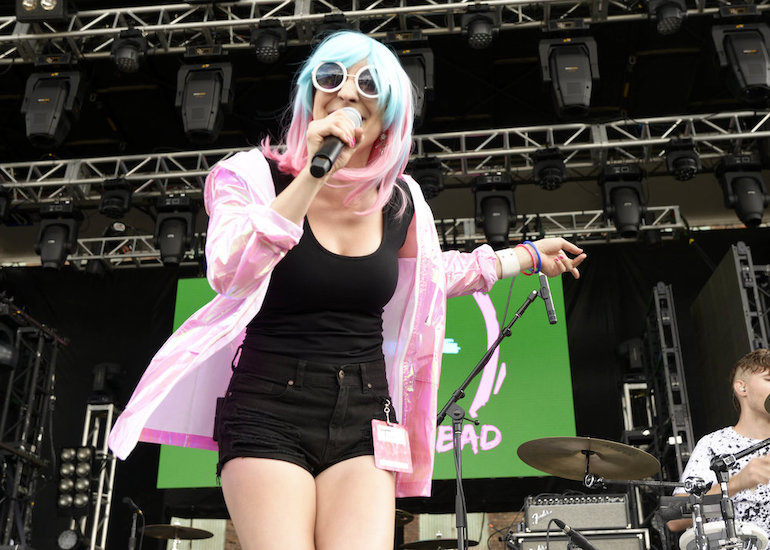 Another one of Pittsburgh's own talent, JRod, in his first music festival appearance, manned the DJ decks to deliver hip-hop-inflected electronic dance music to a Friday crowd happy to be free of the week's work. Rounding out the afternoon portion of the lineup were the indie rock band Circa Waves, who came all the way from Liverpool, England, and Pittsburgh-based hip-hop producer DJ Afterthought, a regular on rapper Riff Raff's live tours. Local electronic artist Emerson Jay also laid down smooth, seductive and funky electronic grooves as dusk approached.
Some Hard Electronic Beats
One of the more remarkable stories of Thrival Music festival was the presence of TOKiMONSTA, aka, Jennifer Lee. The Los Angeles-based electronic artist is still putting back the musical pieces after being diagnosed and treated for a potentially fatal brain disease called Moyamoya. After two brain surgeries, Lee learned to not only make music again, but listen to it. Her vibrant set of psychedelic hip-hop and electronic music pastiche was thus all the more exciting as the festival transitioned from dusk into night. Lee, like her fans, looked exuberant and sounded as energetic as ever.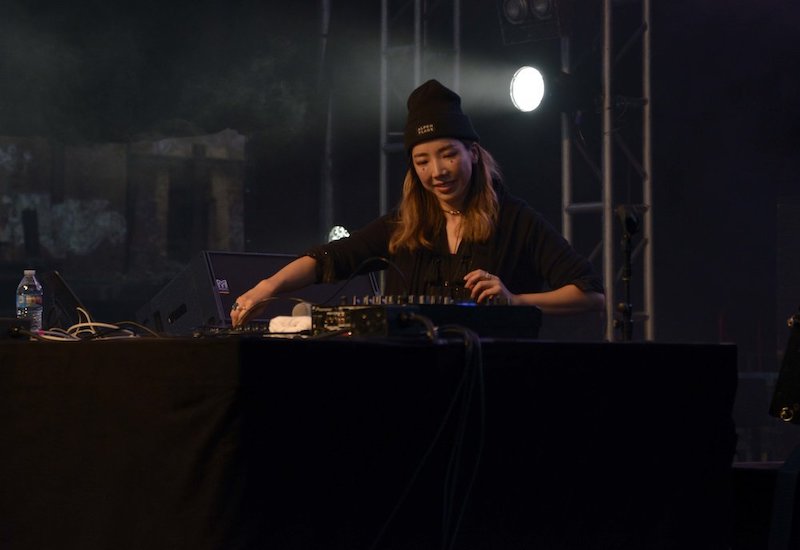 After Two Door Cinema Club returned the musical proceedings to the sound of indie rock, with fans singing along to several of their songs, a Guatemalan giant stormed the stage. Carnage, aka Diamanté Anthony Blackmon, more than lived up to his name, combining Dutch Hardstyle (very fast, relentless techno), trap, and EDM into adrenaline-fueled musical mayhem.
One Word: Logic
Def Jam rapper Logic, aka, Sir Robert Bryson Hall II, was Friday's headliner. Minutes into the show, Logic proclaimed, "I only care about three things: love, peace, and respect". A few moments later, the emcee dropped the now famous lines from "Killing Spree": "Ass, titties, pussy, weed, money". Illogical? Maybe so. Entertaining? Completely.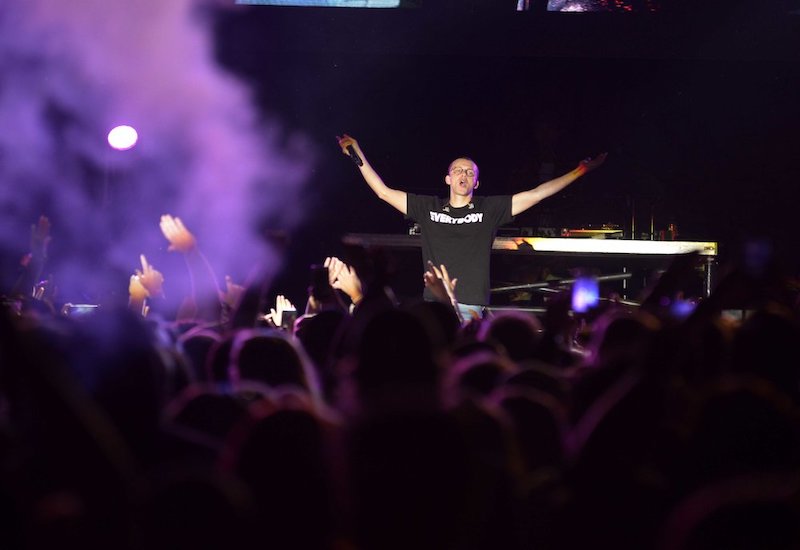 Saturday
Modern Psychedelia
The Garment District, a project by multi-instrumentalist Jennifer Baron of Brooklyn's The Ladybug Transistor, kicked off the final day of Thrival. Of all the bands at Thrival, The Garment District were perhaps the most idiosyncratic. Steeped in 60s psychedelia, folk, and girl pop that calls to mind the work of Broadcast, Stereolab, and Belle & Sebastian, The band were the ideal accompaniment to a lazy and sunny afternoon.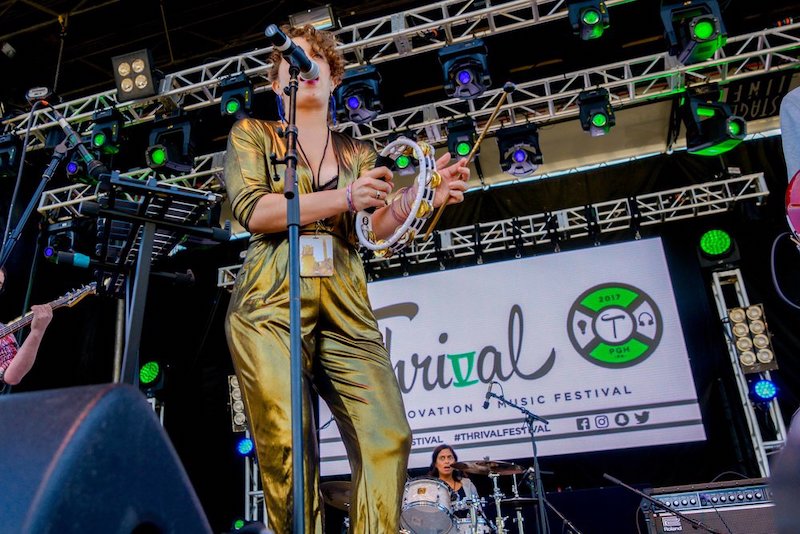 At the other end of the psychedelic spectrum was Byron Nash & Plan B. Nash, a formidable guitarist and Pittsburgh native, occupies a sort of Jimi Hendrix or Cream-esque style of hard rock, and offered as much up to the Saturday crowds.
Michigan & Moody Atmospheres
What's a Michigander? Well, that'd be a person from Michigan. It's also the name of a project by Detroit-based indie rock artist Jason Singer. Michigander brought his well-crafted tunes to the stage, delivering both slower ballads and more uptempo numbers, giving the crowd a wide array of all-around good sonic vibes.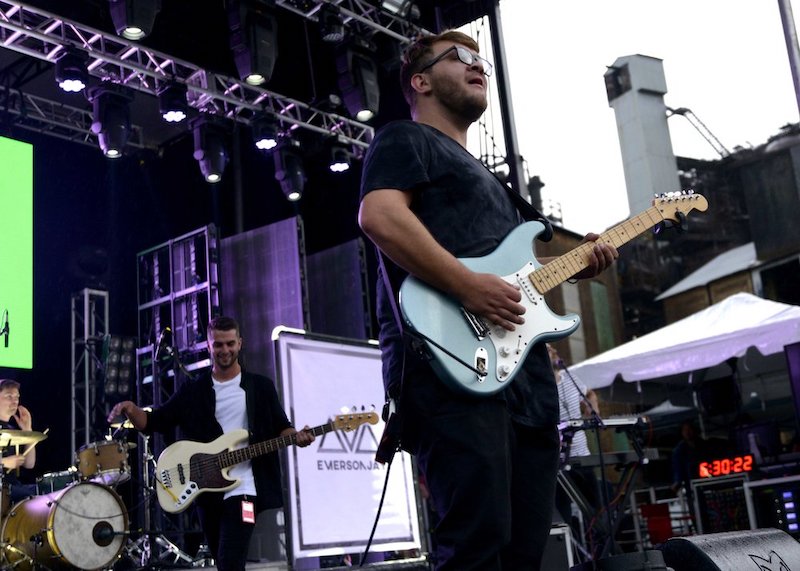 Both Missio and Echos explored the moodier side of electronic music on the Thrival Music's final day. Their respective sets were, to a degree, a more reflective time for the audience before the night's party vibe hit. DJ Steve James, female pop artist Kiiara, and The Welshley Arms also covered some of this darker sonic territory, much of the time with a particular emphasis on the emotional side of relationships.
Return of the Sax
After Childish Gambino, rapper Ugly God might simultaneously have the most absurdly funny and awesome moniker in the hip-hop game. With his 2017 album, The Booty Tape, Ugly God cut right to the chase of what is on his mind. While the Houston native's production is catchy as hell, it's really the lyrics that entertained the Thrival crowd—they're every bit as comic as his name.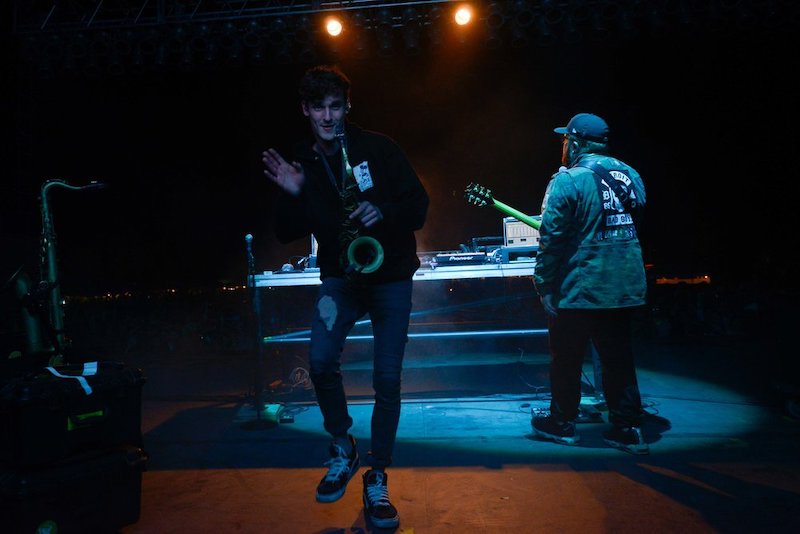 The festival's penultimate act, GRiZ, is interesting for a number of reasons. While GRiZ, aka, Grant Kwiecinski (also a Michigander!) is a fun-loving genre-hopper, he has also done much to place the saxophone back into the pop music lexicon. Alongside his bearded guitarist, GRiZ and his saxophone spun out a dizzying array of sounds, from early 90s R&B to EDM, funk, slow jams and even jazz. The party atmosphere was the perfect lead-in to Pittsburgh homeboy and Thrival Music festival headliner Wiz Khalifa.
Khalifa Kush
True to form, Wiz came out with a giant joint—likely his own brand, Khalifa Kush. After waxing on the philosophy of weed, business and artistry at Thrival's Marque Event at Carnegie Art Museum on Thursday, Wiz blew off some steam (or blew out some smoke) on stage for what was surely the biggest crowd of the festival.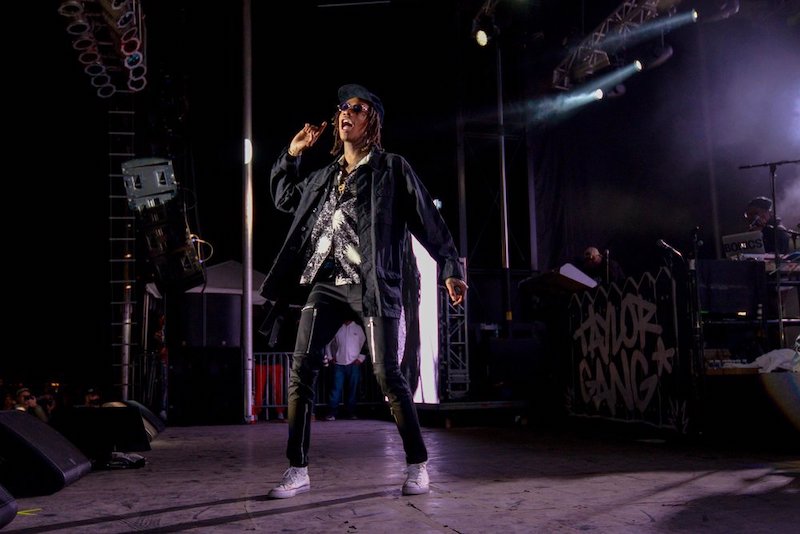 Not to be outdone by GRiZ's hypercolored, Tumbler-fied net art visuals, Wiz strolled around the stage in front of three giant LED screens, which display all sorts of colorful graphics. As expected, the rapper turned weed mogul professed his continued love of his home city. As one of Pittsburgh's own as well, we were happy to have him close out Thrival Music in spectacular fashion.
Wiz was, as they say, lit. Lit AF.