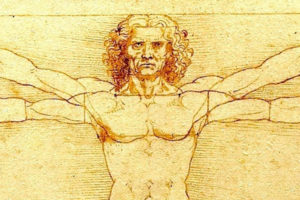 Bear with me on a brief history lesson. There are four oft-cited industrial revolutions:
The First Industrial Revolution:

The Age of Mechanical Production

. This is the advent of the steam engine.

The Second Industrial Revolution:

The Age of Science and Mass Production

. These are inventions that helped us to go faster and to do more.

The Third Industrial Revolution:

The Digital Revolution

. Hello, The Internet.
Which leads me to to the Fourth Industrial Revolution: The Age of Advanced Technology.  If you're an 80's kid and you immediately think of Weird Science, you're not too far off. And if you're currently a kid, well, just continue being you.
Each revolution caused a massive societal change. Life went from farm to factory and country to city. How people lived, worked, traveled, purchased, and communicated, dramatically shifted. There is much debate around what this new revolution means for our jobs, economy, politics, and our daily lives. The one constant that can be universally agreed upon is change.
Change is once again here, and it's here to stay.
A debate ensues about whether the Fourth Industrial Revolution will positively or negatively affect society. And that's a good thing. We need to embrace a critical, analytical, and solutions-focused mindset to collectively navigate this new era. We need to get this Revolution right. And as we mentioned in a previous blog, simply ignoring these issues isn't an option. None of this is going away. We must deal with it. Optimally, we must get in front of it.
If you're more on the cynical (or perhaps realistic) side of things, you may cite dramatic workforce disruption through automation, profound proliferation of information illiteracy, and significant advancements in artificial intelligence, machine learning, and robotics — with some experts predicting machines will start thinking for themselves by 2050.
There are also chances that an array of new opportunities will present themselves over the coming years — ones accessible to people who were never a part of the conversation before. Idealistically, advanced technology can endow us with the power to ease human suffering and major economic stability in new and innovative ways.
In short, a reasonable way to describe the Fourth Industrial Revolution is to imagine technology fully integrating with humanity — creating an entirely new world. New culture. New politics. New media. New education. New language. It's very realistic to predict that human beings will no longer be at arms' distance from the technology that increasingly dominates our lives. Instead, our technology will be as unnoticeable as oxygen, as familiar as your favorite old t-shirt, and as easy as turning on a light.
So why is Thrival asking the question: "What Makes Us Human?"
Ultimately, this exploration will better serve us as we create advanced technology that, as many experts predict, will soon have computing power far beyond that of a human brain. It's probably best to know why and how that will happen. And that is still a human question.
We do all share one common characteristic: we're human beings. And so long as that is the case, better understanding ourselves and exploring who we are — even down to our core mitochondria — is a worthwhile endeavor.
Join us this September 19-20 for Thrival Humans X Tech, featuring our Future of Work Symposium at the Kelly-Strayhorn Theater; our LIFE.CODE Summit at the Phipps Conservatory and Botanical Gardens; and our LIFE.CODE Interactive Experience at Carnegie Museum of Art and Carnegie Music Hall.