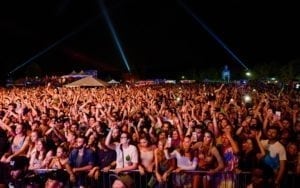 Thrival explores the intersection of humans, technology, and creativity through curated programs, original content, multimedia, and an annual arts + innovation festival.
Our annual Thrival Festival is composed of two events: Humans X Tech and Music X Arts (an evolution from what we used to call "Innovation + Music").
Humans X Tech events explore the impacts of humans and technology on business, society, and culture — particularly through the lens of artificial intelligence, robotics, advanced manufacturing, and life sciences (all Pittsburgh strengths). Our 2018 theme is "LIFE.CODE," which features a Future of Work Symposium, our LIFE.CODE Summit, and the LIFE.CODE Interactive Experience. Humans X Tech events are hosted at venues in Pittsburgh's East End.
Music X Arts focuses on shared experience, with an emphasis on live music of all genres, interactive art and technology, and community gathering. Each year, Thrival experiments with different lineups, and have featured headliners ranging from rock, to EDM, to hip-hop, and more. This year, Music X Arts will be hosted at Highmark Stadium on Pittsburgh's South Side waterfront, across from downtown.
Thrival is produced by Ascender, a Pittsburgh-based 501(c)(3) nonprofit organization serving early stage startups, entrepreneurs, innovators, and creatives of all forms — people who we refer to as "starters" and "builders." We have an 11,000 square foot space in East Liberty that serves as co-working, a business incubator, and program space for free entrepreneurial education. Proceeds from Thrival go to support Ascender and its "Start/Build" community. You can learn more about Ascender HERE.
Our Story
Thrival Festival celebrated its "proof of concept" in 2013, welcoming 2,000 attendees for a day of innovation talks, entrepreneur pitches, and an evening concert featuring RJD2, De La Soul, Frightened Rabbit, and Formula 412. The goal: to shine a light on the new ideas and entrepreneurs that are fueling Pittsburgh's 21st century economic resurgence.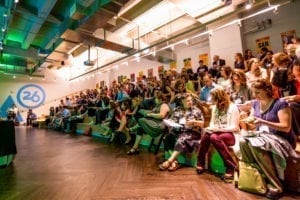 In 2014, we grew. The concert welcomed 15 national and local recording artists, headlined by Moby and Portugal. The Man. Some 15 innovation events — including thought talks, a $25,000 pitch competition, workshops, panel discussions, and technology symposiums — galvanized over 7,000 people under the Thrival banner, and showcased the top thought leaders in the region who are ushering an era of new ideas and renewed energy.
In 2015, we grew even larger: 40 musical performances. 36 innovation events in six different neighborhoods, and a city-wide innovation "campus" welcoming the world to Pittsburgh. We also move concert locations to Pittsburgh's Hazelwood neighborhood — converting 10 acres of former industrial brownfield into a live music experience for 10,000 people.
In 2016, Thrival hit a massive growth year, growing the festival to over 16,000 attendees. The Grammy Award-winning duo, The Chainsmokers, headlined Thrival Music, along with CHVRCHES, Thievery Corporation, and Metric. And we found a new concert site, the Carrie Furnaces, a national historic site that was once the heart of the famed Homestead Works.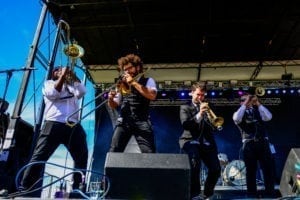 Thrival Innovation welcomed thought leaders from across America, featuring programs with a dynamic group of participants, including a New York Times bestselling author, rogue doctors, a Pulitzer Prize winner, pioneering musicians, startup founders, and even the inventor of the hashtag.
We took even more growth steps in 2017, by establishing partnerships with Live Nation (Thrival Music) and NewCo (Thrival Innovation) to create an even better, high quality, and unique experience for festival attendees. 14,000 people attended last year, making 2017 the second largest Thrival to date. Both the music experience and innovation vertical of the festival scaled and improved, with more partners, new locations, and a attendees from over 30 states and multiple countries.
And we look forward to seeing you this September 19-21 for Thrival 2018!
Why Pittsburgh? The Comeback City
As an independent 501(c)(3) nonprofit organization, Ascender created the Thrival Festival with two goals in mind. First, Thrival serves as a revenue driver as a means for the organization to support local entrepreneurs with a portfolio of resources to grow their ideas — free of charge. All proceeds from the festival go to support Ascender and its mission. The second (and equally important) feature of Thrival is the movement to introduce Pittsburgh as the world leader in post-industrial economic development and innovation.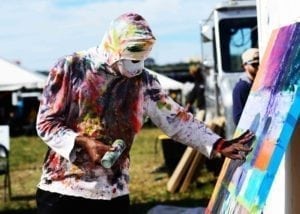 The energy in Pittsburgh is magnetic. Our city is back. The city is now driven by a knowledge economy — a premier destination for young leaders, professionals, artists, makers, and entrepreneurs looking toward the next frontier. They've found it in Western Pennsylvania.
It has been a long time coming. In the 1980's, the steel and heavy manufacturing industry — an economic pillar that has long-defined our region — collapsed. Thousands were left jobless. Many left the region. Pittsburgh became synonymous with decline. Yet, a group of leaders from both the public and private sectors set into a motion a multi-generational plan to help the region eventually recover from the shock of massive industrial decline. Over the course of decades, Pittsburgh evolved from a city of iron and steel to a city of medicine, education, banking, energy, technology, and now — entrepreneurs. The transition is barely recognizable to those who left years ago. Pittsburgh is no longer a 20th century cautionary tale. It's a 21st century American success story.
Critical to this resurgence is the startup ecosystem — led by the city's incubators and accelerators, as well as the the world-class universities. Within old warehouses and storage facilities have emerged new companies charting new courses, finding solutions in an increasingly competitive economy, and restoring the urban core of a city many thought would never recover.
Times have changed. The blueprint is drafted. Come listen and learn. Share your stories. Engage with others. Build the next best idea. Lead. Disrupt. Move forward. Thrival is the platform to create, innovate, and grow.
See you in September.
*Thrival is dedicated to providing a harassment-free experience for everyone, regardless of gender, gender identity and expression, age, sexual orientation, disability, physical appearance, body size, race, ethnicity, religion (or lack thereof), or technology choices. We do not tolerate harassment ofparticipants in any form. Participants violating these rules may be sanctioned or expelled without a refund at the discretion of the organizers.*